South Adventure Glacier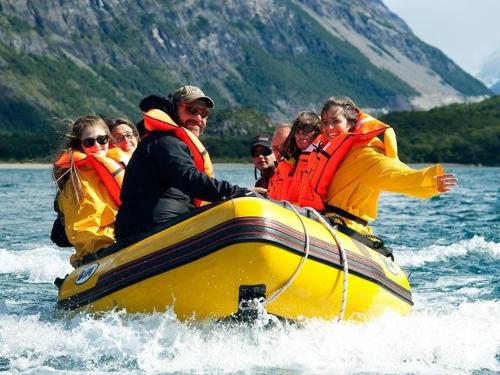 GLACIAR SUR AVENTURA
is an excursion aimed at travelers who enjoy walking in remote and unexplored places. Truly those who have done this trekking feel they are the first to reach the places they visit.
all-inclusive rate USD 250
The Tour begins in Calafate at 08.00, 50 kms will be registered to the Roca Lake, boats in a semi-rigid cabin with capacity for 17 people. After navigating the space of 45 minutes we arrive at the head of the South Arm, place where the first stage of the trek begins to arrive at Frías Lake, site where you embark on gomones with capacity for 7 people with whom you navigate to the west end of this lake and where then disembark the second walk to the Frías Glacier / Dickson extreme SW of the National Park. There, in the middle of an incredible landscape, the lunch box included is included for lunch and then begins the return.
The return Arrive at the Hotel at approximately 7 pm. You walk back and forth at 14 km in 6 hours.
Entrance to the National Park is not paid.
Passengers are always accompanied from Calafate by a bilingual trekking guide (English / Spanish, possibly Italian) in addition to the crew.


Direct booking by email! It's cheaper, write to: schilling@cotecal.com.ar or WhatsApp +542966403126





A